Traveling when you're introverted can be overwhelming as cities are often noisy and busy. Believing that everybody should be able to enjoy the benefits of exploring new places, UK Therapy Rooms conducted an index study to find out which are the best European destinations for introverts.
The factors taken into consideration for the index included the number of tourists and the number of Instagram posts per location (the higher the number, the less introvert-friendly). Furthermore, the index included activities that were deemed introvert friendly such as the total number of attractions per location, sights & landmarks, museums, nature & parks, spas & wellness.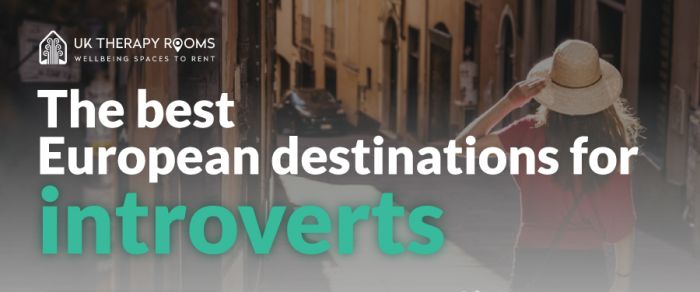 The final index score shows the best locations in Europe for introverts. The full data can be found here.
Porto Santo Island is crowned the best European destination for introverts, with a score of 70.19. This Portuguese Island hosts around 40,000 tourists yearly, making it the least populated location of the top 10 studied – perfect for those who prefer a more solitary trip. Although there aren't many visitors compared with other places, there are plenty of things to do, with 88 attractions, 35 sights & landmarks, and 23 parks & nature to explore.
Tip: If you find yourself in Porto Santo Island, you can spend the day relaxing on the sandy beach or enjoy the view from the highest point on the west of the island at Pico de Ana Ferreira.
The second-best European destination for introverts is the Spanish city, León, with a score of 64.27. As bigger cities like Barcelona are often favoured by tourists, León is more of a hidden gem, with only 75,787 tourists visiting it yearly. However, with 16 museums, 51 sights & landmarks, and 152 attractions, there are plenty of things to do when visiting.
Tip: If you enjoy beautiful architecture and/or are a spiritual person, the Santa Maria de Leon Cathedral is truly a masterpiece built in the Gothic style with French influences that was declared of Cultural Interest in 1844.
Ohrid comes in third place with a score of 58.15. This North Macedonian city hosts approximately 200,000 tourists yearly and it's a great place to either immerse yourself in a history lesson or relax by the lake. There are 10 museums to choose from, as well as 123 attractions in total.
Tip: If you're a fan of wine Ohrid is the home of the Monastery Winery, located in the beautiful landscapes under the St.Cosmas and Damian monastery, only 10 km from Ohrid. They don't only offer wine tasting and charcuterie boards but painting lessons and hiking tours as well!
The fourth best city for introverts is the Norwegian city Tromsø, with a score of 56. The world's northernmost university town, Tromsø has both a vibrant and a cosy vibe to it. There are a whopping 223 attractions including 18 sights & landmarks, 21 museums, 18 parks and 5 spas. The city is also incredibly picturesque with over 1.6 million hashtags on Instagram.
Tip: If you are ok with small groups of maximum 8 people, you might enjoy an Arctic road trip with a scenic picnic on the mountainous island of Kvaløya (Tromsø). There are also many options to see the Northern Lights, from walking tours to cruise tours.
The Hague is the fifth best city for introverts with a score of 52.27. Although this Dutch city hosts a whopping 20,000,000 tourists yearly, there are plenty of activities to do there that are introvert-friendly, from 136 sights & landmarks, 40 museums, 39 parks, and 64 spas.
Tip: There are plenty of self-guided tours that will allow you to explore the city at your own pace. Furthermore, if you're an Arts fan, the Mauritshuis Royal Picture Gallery offers a beautiful collection of paintings, such as Johannes Vermeer's most famous one, Girl with a Pearl Earring.
Dr. Daniel Glazer, the Co-founder of UK Therapy Rooms offers the following advice for travelling when you're introverted: "Exploring a new city destination might involve immersing yourself in the culture and visiting popular attractions. For many cities, this might mean crowded, busy, and hectic days out. For someone who might view themselves as an introvert, these experiences can be draining so downtime or time alone might be needed to recharge and relax. There are plenty of ways to do this such as taking a stroll in nature, reading a book, or taking a bath. It might even be possible to combine these moments of rejuvenation with exploring a new destination such as by visiting an art gallery for quiet reflection or taking a trip to a well-known local park or beach."
Source: https://www.uktherapyrooms.co.uk
Photo: Pixabay