Last year, Belgrade, as the Serbian most important congress destination, welcomed one of the most famous hotel chains in the world. Yes, it is the "Hilton" hotel, which certainly contributed to the capital of Serbia standing side by side with European capitals. For a hotel of this reputation to function smoothly daily and be up to the task, which is regularly expected of it, quality management of all its business processes is of inestimable importance. You can read important items and interesting details about the business of the hotel chain that is celebrating its 100th birthday this year, from the point of view of Nicolaas Houwert, general manager of the Hilton Belgrade Hotel, in an interview he gave for the tourist portal Turizmarium.
by Nina Kovačević
Hilton is one of the most famous hotel group in the world. From the last year, Belgrade has one of your hotels on attractive and easily accessible locations. As someone with significant experience in this industry could you describe the average day of Hilton hotel general manager?
This is a great question, and one often asked. The answer is simple: hardly any day is the same for a Hotel General Manager. My daily routines start by walking the floors, checking the entire front and back of house areas, including the breakfast room, on condition and cleanliness. Based on my findings, I inform my management team immediately to follow up. After reading my email, I prepare for the morning meeting, which starts at 9h30 each workday. In this meeting, the 11 heads of department are coming in for a daily brief. Together we run through the daily events, comments, and feedback from guests from the past 24 hours, and we look what is happening during the day. After the morning meeting, I call into our revenue manager who is based in London, to review our pricing and pick up of rooms sold. Together with the commercial team, we make decisions on our rate strategy. Around lunchtime, I visit the meeting room floor, to meet with organizers, and check up on the function space and set up. After lunch in our Team Member restaurant, in the afternoon I work on email, follow up on meetings, and respond to any ad -hoc priority, which may occur. This could be talking to team members, guests, and suppliers. My role is to supervise and keep a helicopter view over the operations. During the afternoon, I am being asked to sign lots of papers, from sales contracts to employment request forms. Depending on the day of the week, I have standing meetings with my team, owners and Hilton regional team. At the end of the day, I end my shift by entering our SkyLounge bar and restaurant to greet the team, and to ensure all is ready for a great shift.
What kind of difficulties you encounter in your position and how do you deal with them? Do you use certain methodologies?
Difficulties might come in any way or form, and I always try to be as much pro-active as I can to avoid difficulties. Hilton has introduced the Make It Right program, allowing line staff to be empowered to make their own decisions while facing guest complaints. We know that if a problem is resolved instantly, allowing the right level of autonomy, a service recovery might even result in a guest praising the hotel for overcoming difficulty. A great methodology is applying the HEART Model in case of guest complaints: Hear the guest out without interruptions, Empathize with the guest, Apologize to the guest, React/Respond to the guest, and finally Thank the guest for sharing their experiences. By training our team members on this model, we have drastically reduced the number of complaints in our hotel.
Technology in the service of the guest
Belgrade had a period of establishing itself as a congress destination. Considering that your clients are coming in great numbers from the business world, what ways do you use to follow growing demands from the modern guests and how do you keep established levels?
In today's modern world, our guests' experience is revolving around technology. Our guests use and bring multiple electronic devices with them on their travels, and they expect to have high-speed wireless internet available anywhere they go. Besides offering complimentary internet, Hilton developed one of the most advanced applications for our guests, called the "Hilton app". This tool syncs with the Hilton Honors program, an award-winning loyalty scheme, allowing guests to collect and redeem points for hotel stays. The app also allows tracking the guest preferences, listing the upcoming stays, and receiving personalized offers for an increase guest experience in our hotels. In our hotels in North America and the UK, Hilton now offers the option to open the hotel room using your smartphone, called the Digital Key®.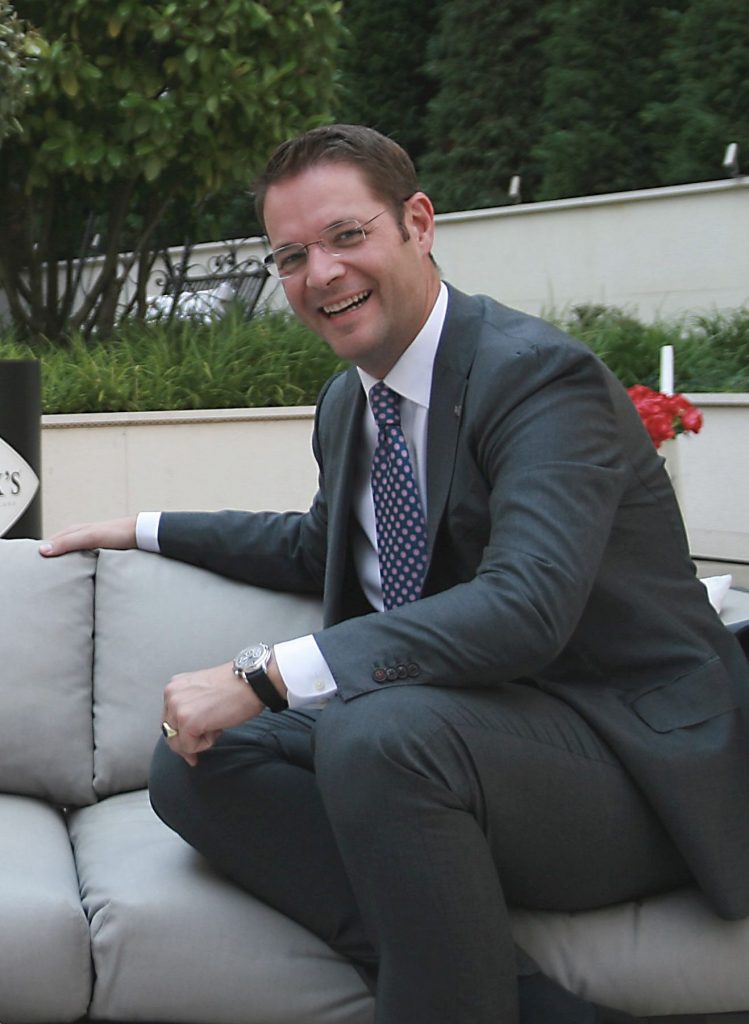 Well-deserved loyalty
What would you point out as your advantage in comparison to the other hotels in Belgrade? What are your most important benefits?
Hilton Belgrade offers many advantages to both business and leisure travelers. Due to our excellent location in the heart of Belgrade, in the proximity of the National Assembly, numerous embassies and international organizations, we anticipate welcoming both individuals and group travelers. The hotel offers various facilities to accommodate the needs and interests of all types of guests. We have a beautiful rooftop bar, SkyLounge with tasty drinks, craft cocktails, and tempting Pan-Asian cuisine served in a modern style.
Although, there are many hotels we offer similar options like the rest, what is a difference with us is to watch our guests. Whenever they stay with us, our guests feel like at home. We don't see the guest as a number, already as a person. That's why we at the Hilton have good "tools" to find out what kind of breakfast is our guest likes or what kind of coffee he wants us to serve, and that makes us much different compared to other hotels lance. Before the guest came to our hotel, we know what he expects from us.
Moreover, we've shared celebration 100 years of Hilton with our valuable guest through social media and in the lobby via digital countdown clock decorated in the spirit of the 100 years celebrations. Also, we kept them informed regarding each action such us painting 100 eggs, giving away brownies as well as Pina Colada drinks and last but not least the selfie frame that was created showcasing the hashtags for guest to take pictures. This is the way how you create guests for life and making them sure you care.
What is very important is that in 2019 Hilton Belgrade got International Eco-Certificate "Green Key". Green Key is an eco-label for tourism and leisure establishments and is awarded to those that fulfil a list of environmental requirements. Obtaining Green Key demonstrates the establishments' efforts to develop an environmental friendly, sustainable and responsible business.
I presume you have adequate feedback from the hotel guests. What do they say about their stay and service? How do you motivate them to come back and stay again?
Overall our guests are satisfied, they experience an outstanding service which is the true strong point of the hotel. Our guests state that service is proactive, genuine, and perhaps most importantly, consistent. Furthermore, as a part of celebration 100 years of Hilton, our guests enjoyed special amenities that was arranged to take with them home, also we had special promotions in all outlets and Executive Lounge. Nevertheless, they encounter our team members as friendly and genuinely excited to be at work interacting with guest, with no exception. As a confirmation of that, we have received Certificate for excellence 2019 from TripAdvisor.
Hilton Honors presents our loyalty rewards program that allows guests to earn points for staying in hotels and resorts within the Hilton Portfolio. These points can be used for free nights at any of our hotels and resorts. Our most common guests receive the status of Diamond membership and receive additional benefits (by availability) to the Executive Floor with access to the Executive Lounge. We know that these visitors like our hotels because they feel recognizable in our hotels by monitoring their personal preferences and billing information. We try to create a sense of "home away from home" for all our guests.
In Belgrade, as at his own home
How do you personally like Belgrade? What is specific about this city that is different in comparison to other European cities where you lived or worked?
I love Belgrade and the Serbian people are very hospitable. I really like the dining scene in "Beton Hala" and enjoy spending time with my family in Kosutnjak and Ada Lake on weekends. Although Belgrade is a large city, I quickly felt at home due to the warmth of the people and the fact that everyone speaks English well and makes us feel welcome. The best thing about working for Hilton in different countries is that you have to mold yourself each time to fit the needs of each unique property.
Have you been to some of the tourist destinations in Serbia? If this is the case could you share some of your observations with us?
I visited a few destinations like Avala Mountain, Kopaonik, Topola, Fruska Gora, Novi Sad, and the main attractions in Belgrade, including the Marakana, the Blue Train and the White Palace. I am very impressed by the nature and the accessibility of these destinations. Most are still relatively quiet locations, not overrun by mass tourism yet. I would only hope that we could have more focus on destination marketing to make Serbia known as a place to explore by tourists. I always say that Serbia has a lot to offer, which is waiting to be re-discovered!